Total Control is a pioneer in the design and installation of yard security systems. By utilizing highly reliable Photo Beams and exterior Motion sensors in our customers yard, we can build very secure yard systems that will alert the owner upon a breach of any zone instantly. The owner will receive text message to their Phone including High Definition pictures. The cameras will go back 10 seconds in time and start recording, and they will have instant access to the recorded video so they can replay exactly what happened. By utilizing these profession sensors, which have to detect the heat of a body or a vehicle to be triggered, false alarms and reduced tremendously. This means no false alarms from wind or snow or a bird. In addition to the pictures and videos, the sensors can also trip a Siren and Strobe light that is an incredible deterrent, especially at 2am. The Sirens and strobes can easily be setup to work 24/7 or they only work after hours, say between 11pm and 5am. Listed below are some of our most popular sensors and Sirens" Below Yard Security, List the SL-650QDM as "Exterior Photobeam Sensor (SL-650QDM)" List the LX-802N as "Exterior Motion Sensor (LX-402/LX-802N) Remove the "Wireless Motion Sensor"
Alarms are necessary to keep your family and business safe. Total Control Security offers monitored intrusion detection systems at affordable prices. With hardwired and wireless solutions to fit any budget, almost anybody can afford to have one of our professional grade security systems installed. Often times, your homeowner's insurance even offers a discount on your policy premium for having a monitored security system installed. And let's not forget the peace of mind you and your family will gain. Total Control Security is licensed throughout Western Canada and has over 80 years of combined experience in the alarm industry. Our technicians and system consultants will be happy to offer you an in-home or in-business consultation to discuss your concerns and then design a system to meet your needs and specifications. And of course, there is no cost or obligation for you. Total Control Security Also offers 24 hour ULC Monitoring through the most trusted and most advanced Monitoring Station in Canada
Total Control proudly installs DSC equipment for all of our customers. The most advanced. The most reliable. The best value. That is DSC. Complete systems for as low as $0/installed.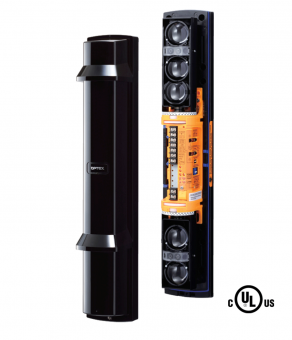 SL-650QDM
---
The new SL-650QDM includes even more features to protect against false and missed alarms caused by mis-alignment and environmental issues. With 650ft. of outdoor detection range and 4-channel beam frequency selection, the QDM model is perfect for high security perimeter applications. New features include:
Dual modulation - Enhances signal discrimination against potential interferences
Quad beam - Dramatically cuts down on false alarms caused by birds and falling leaves
Sniper ViewFinder and Alignment Sound Assist - The new telescope lens on the SL Series has a high level of visibility for optical alignment work. Even at 650ft., a perfect installation and stable performance can be achieved in minimal time.
Sunshine Protection Technology - The SL Series has triple layer construction to allow for better performance against external light sources. (The sun, car headlights, mercury-vapor lamps and fluorescent lights)
Beam Power Control Selector - Allows you to manually adjust the beam power to help prevent crosstalk due to reflection, interference due to unstable signal or noise when using multiple beams over long distances, and allows the detector to be used in shorter than rated distances.
Automatic Transmit Power Control - The A.T.P.C. automatically controls, adjusts and optimizes the power of the beam and maintains optimal performance. This decreases false and missed alarms caused by fog, frost, cross talk and signal saturation.
BAU-4 Compatible - The BAU-4 beam alignment unit automatically and accurately adjusts the optical access. This allows peak performance and gives one technician the ability to align a 350ft or 650ft SL detector without additional help.
---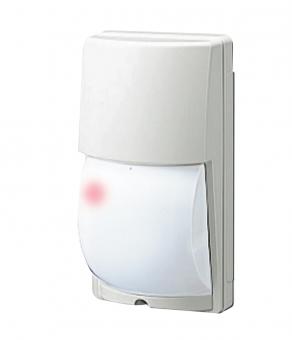 LX-802N
The LX-802N is robust, weatherproof and specifically designed for short to mid-range and narrow outdoor applications, such as triggering lighting or cameras. With advanced features such as sensitivity and range adjustment and a built-in light sensor providing day and night modes, the LX-802N is highly versatile. With Double Conductive Shielding, the LX-802 is resistant to interference from foreign light sources such as the sun and car headlights.
---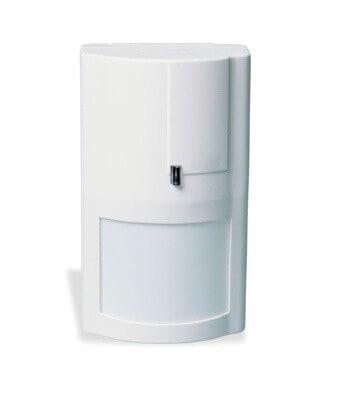 DSC WS4904P Wireless Motion Sensor
---
This is a wireless motion detector for use with DSC wireless receivers. It is a pet immune passive infrared motion detector that works for most standard installations. It is pet immune for pets up to 60 lbs.
PIR motion detectors will detect movement of any object that gives off the proper heat signature that the motion will distinguish as a person intruding. These are effective if you are away from home. While you are are home; most systems have a 'stay' setting that will render these non-operational.
If you have pets and want these because of their pet immunity be sure to add the total weight of all pets in the household. If you need a wireless DSC motion that will handle pets larger than 60 lbs. then we suggest the DSC WLS914-433
For replacement batteries for the EV DW4927 you'll need the CR123 lithium 3 volt battery.